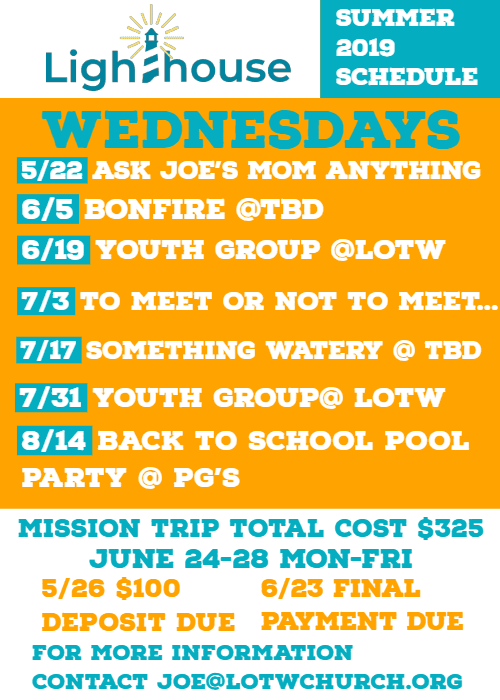 5/22 - Ask Joe's Mom Anything
Joe's mom is coming to Texas! She wants to see what her son is actually doing that keeps him too busy to call very often, so we're kicking off the summer with a normal youth night! Come out for pizza, a short message, an ask-anything session with Becky (that's her name, please wear it out), and some worship!
6/5 - Bonfire at Emily Paulsen's House
Do you like food? Do you like watching things burn? Do you like actually burning things?
Bring your homework. Bring the books you don't like (and can't donate [be responsible]). Come out and enjoy some time together at a house with a view! Plus, angry chickens (or so we've been told).
Starts at 6:30p! Contact Joe for directions!
6/19 - Youth Group at LOTW #1
You know, for a ministry group, we should definitely get together a few times over the summer and actually do ministry stuff. Fellowship is awesome, and that's why we burn stuff and float on stuff and swim in stuff and grill stuff, but once in a while we should fellowship with a focus on biblical study. Let's do that mid-June. Yes? Yes. Awesome.
7/3 - To Meat or Not To Meet?
It's the day before the 4th of July. Are you even in town? Do you wanna do something?
Look, Joe loves grilling. Like, you have no idea. What if we have a cookout at Joe's house? THEN he wouldn't even have to grill on the 4th of July! Though he probably will, because, you know. Meat.
OOH, OH OH OH, WE COULD CALL IT "TO MEAT OR NOT TO MEAT"
OKAY, IT'S HAPPENING. 6:30. CONTACT JOE FOR DIRECTIONS.
7/17 - Burgers @ Burger's
Have you heard of Burger's Lake? Two beaches, charcoal grills (yes, more grilling), a one-acre lake? Let's do it!
This is the only paid event all summer, aside from the missions trip.
$15 per person!
Swimsuit and towel should be all you need! Cookout supplies are ready - I'm so excited!
1200 Meandering Road
Fort Worth, TX 76114
They close at 7, so we'll have to wrap up around then. Maybe plan on coming at 5 if you can!
7/31 - Youth Group at LOTW #2
Another taste of what the school year sessions will be like, this gives us a chance to hang out in our new room and decide on any last-minute changes before the new year kicks in and we launch our new programming schedule.
MONDAY 8/12 - Back to School Pool Party @ Pastor Greg's House
We were going to have this on a Wednesday like everything else, but this Wednesday is your first day back in school. Heck no! You'll be exhausted. SO INSTEAD, we're having it Monday.
It's a pool party.
There will be a grill.
What more do you need to know?
Contact Joe for directions.
BUT JOE, I NEED MORE INFORMATION THAN THAT!
Fill out the form below and I'll get back to you on the double!